So, you have a passion for firearms. You love absolutely everything about them and you're more than ready to make a career of it, right? You're ready to become a gunsmith! Well, I assure you that you won't regret that decision. Gunsmithing offers such an incredible opportunity to turn your love of firearms into a career.
And today, with the internet, it has literally never been easier or more affordable to become a certified gunsmith. There are so many amazing online gunsmithing schools out there that it can be pretty tough to choose. Each has their own advantages and disadvantages, but I can tell you this: wherever you're at in life, if firearms is your trade of choice there isn't an online gunsmithing school in existence that will let you down.
Even though you'll be hardpressed to find bad online gunsmithing schools, that isn't to say that there isn't one particularly suited to you, your budget, and what you hope to accomplish. There absolutely is.
So in this article, I'd like to take a minute and share with you the absolute best online gunsmithing schools you should consider attending.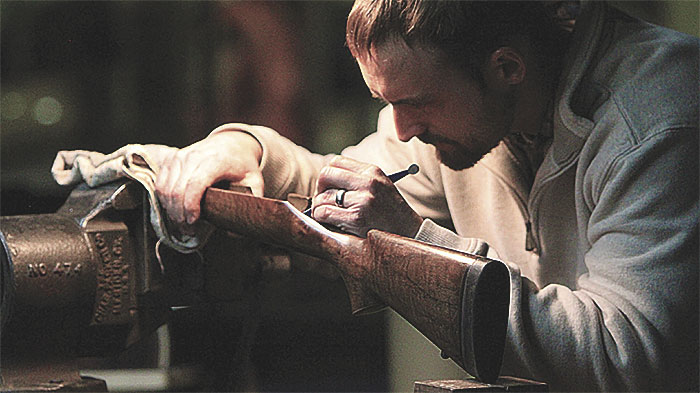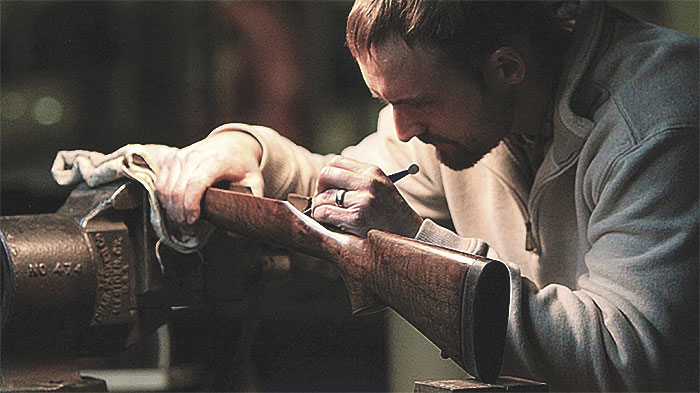 What Makes Online Gunsmithing Schools So Great?
There are plenty of offline options for gunsmithing schools. Just take a look around this site or call your local community college. You can even go to your local gunsmith an ask for an apprentice. These are great ways to learn the trade, of course, but online gunsmithing schools provide three things that offline methods can't:
Comprehensiveness
Convenience
and Affordability
Online gunsmithing schools, unlike apprenticing for a gunsmith, provides a very systematic, beginning-to-end education of the trade. Instead of learning bit by bit and staying mostly in the dark, you will receive a completely comprehensive overview of the entire trade. Besides that, you'll be able to work on your certification or degree on your own time, at your own pace, and from wherever you want.
Now, a lot of people who want to go into gunsmithing are looking to change careers. They've got families to support, jobs to go to, and other responsibilities to take care of. With a traditional gunsmithing education, there'd be no way to manage it all. But by choosing online gunsmithing schools, you'l be able to work around your other obligations and gain the knowledge you need to work for a firearms manufacturer, a sporting goods store, or even open your own business.
And speaking of obligations, those probably cost you quite a bit of money. Rent, groceries, schooling for the kids, all those monthly bills. Online gunsmithing schools can also work around your budget. First of all, they are way cheaper than an offline certification or degree. Second, the program is self-paced and very concentrated, so you'll be able to transition out of your existing job and start practicing as a gunsmith in as little as 4 months.
Online gunsmithing schools are clearly the best way to get your gunsmith training. Which one should you attend, though? Let's go over the Top 4 in reverse order, ending with number 1, my best pick of all online gunsmithing schools:
4. Sonoran Desert Institute
Read my full review of the Sonoran Desert Institute gunsmithing school
Sonoran Desert Institute is one of the best online gunsmithing schools, but it's not solely dedicated to gunsmithing. That's why it's number 4 on the list, because we are talking about gunsmithing schools specifically. Sonoran offers a gunsmithing certificate, but their flagship program is a full-fledged Associate of Applied Science degree in Firearms Technology. Whatever you go for, Sonoran Desert Institute will not disappoint.
3. Penn Foster Career College
Read my full review of Penn Foster Career College's gunsmithing program
Penn Foster is an excellent place to go to learn many different trades, but their gunsmithing program is outstanding. Of all the online gunsmithing schools, Penn Foster is probably the nicest to use. Their backend experience is perfectly optimized for online students and it makes it a real pleasure to learn there. It's also a very affordable program. Definitely worth checking out!
2. American Gunsmithing Institute
Read my full review of the American Gunsmithing Institute's gunsmithing school
Coming in at number 2 is the American Gunsmithing Institute's gunsmithing school. There are lots of gunsmiths out there who will tell you that this is the premier online/distance gunsmith training course, and they're not far from the truth. American Gunsmithing Institute offers literally some of the best possible gunsmith training you can get. Besides their gunsmithing program, they also sell separate DVDs that will be invaluable to self-learners. While I think American Gunsmithing Institute is an excellent program, I think it comes in just beneath the number one online gunsmithing school on this list.
1. Modern Gun School
Read my full review of Modern Gun School's gunsmithing program
Of all the online gunsmithing schools, this is my absolute favorite because of its depth and the quality of the materials you receive. If you enroll in the advanced gunsmithing course, you get not only all the educational materials (books, etc), but they also mail you tools and supplies for performing hands-on projects. I think Modern Gun School combined with a local apprenticeship would be the absolute ideal setup for becoming an excellent gunsmith.
Are You Ready to Enroll in Online Gunsmithing Schools?
If you're having any doubts about online gunsmithing schools and whether or not you should attend, I would tell you to look past those doubts. Here's the truth. Whether you go on to work for a firearms manufacturer, or to open your own business, or even if gunsmithing is only a hobby for you, gunsmithing is a useful skill to have and a cheap skill to acquire. Maybe you don't want to work in a gun shop or start offering gunsmithing services to the general public. Maybe you aren't sure if you want to or not. I say it doesn't matter.
For an incredibly low cost you can acquire skills that will make sure you have a job forever. If you're thinking about online gunsmithing schools, pull the trigger (no pun intended). There's no way you will ever regret it.